Back To Blog >
A Conversation with Paul Whalen & Sarge Gardiner of Robert A.M. Stern Architects
From its unique location to its exquisite details, 1331 Maryland is a residence like no other. When looking for a team to design this landmark building, we knew that New York-based Robert A.M. Stern Architects could create a building appropriate for this dynamic site. With 50 years of experience in designing award-winning residential, commercial, and institutional projects, RAMSA is widely recognized as an established leading global architecture firm.
We sat down with Paul Whalen and Sarge Gardiner, Partners at Robert A.M. Stern Architects, to hear about the inspiration behind the building's design, elements they are especially passionate about, and how 1331 came to be.
RAMSA began working on 1331 in 2014. Whalen and Gardiner were excited to work on this project because of its highly visible site and strategic location between the bustling city and the Potomac waterfront parks. This allows residences to enjoy many dimensions of the Capital City. RAMSA designed the building with this in mind, incorporating expansive floor-to-ceiling windows set in beautifully detailed masonry facades.
One of Gardiner's favorite aspects of the building is 1331's magnificent lobby. From the wood columns to the curving staircase and mosaic feature wall, the building's design details create a stunning environment to welcome residents. One of Whalen's focuses was how RAMSA massed the building around a central courtyard to bring light and views to all the apartments and create authentic residential character. Whalen and Gardiner are thrilled to see this concept come to life.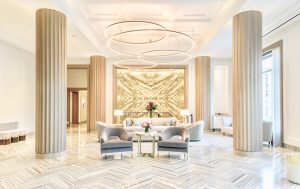 1331 is now leasing. Discover our available floor plan options and find your new home today: http://bit.ly/32MiQAp